Following on from sharing week last week in which some of our parents shared their careers with us we set up a hospital/doctors surgery. The children really enjoyed dressing their friends with bandages, checking their temperatures, listening to each other's heart beats and administering medication to those who needed it. We also used our writing skills to fill out prescriptions for the Helen Gibson patients.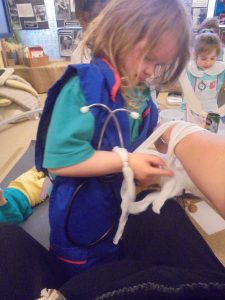 We also have been showing lots of interest in Volcano's so we painted our very own volcano ready for an experiment next week! The children used lots of different colours to create the Volcano and making it look as real as possible.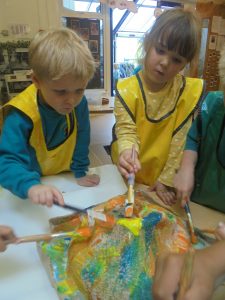 We also recalled on our trip to the farm last week. We created a large scale drawing of our very own farm, talking about where the animals live, what animals there would be and any other things we may find at the farm. The children were very detailed with their drawings, recalling what their favourite part of the farm was and also adding in some animals or other parts of the farm that weren't there such as a duck pond.
We also explored some mark making using our hands and smaller tools on a large shower curtain! No area was left uncovered and it was a great messy activity.